In March 2019 a determination was made by university senior leadership to permanently pause the Next Gen project, which included the implementation of the Chart of Accounts redesign.
Background
Change happens! Sometimes, changes are small and incremental. At other times, change is widespread and significant. The UCF Financials Next Generation (Next Gen) project will bring widespread and significant change to UCF's Oracle PeopleSoft Financials system.
Born from the work of both Project Wahoo and the Chart of Accounts Redesign project, UCF Financials Next Gen will accomplish 3 major objectives:
Integrate the PeopleSoft Grants module with UCF Financials, replacing a legacy, homegrown pre-award system and enabling UCF's Office of Research meet the Collective Impact Strategic Plan goal of doubling research awards to $250 million by 2020.
Implement a modern, multi-dimensional chart of accounts structure to meet university's evolving needs for greater flexibility in budgeting, financial management, and reporting, and build a foundation for all of its mission-critical ERP applications.
Re-implement UCF Financials system, workcenters for improved user productivity, and embedded forms for more efficient workflow across the application.
The project will also provide reporting tools via a redesigned Financials DataMart and other tools to be able to extract and query data from Financials system, and improve security automation and workflow with a redesigned Departmental Authorization List (DAL).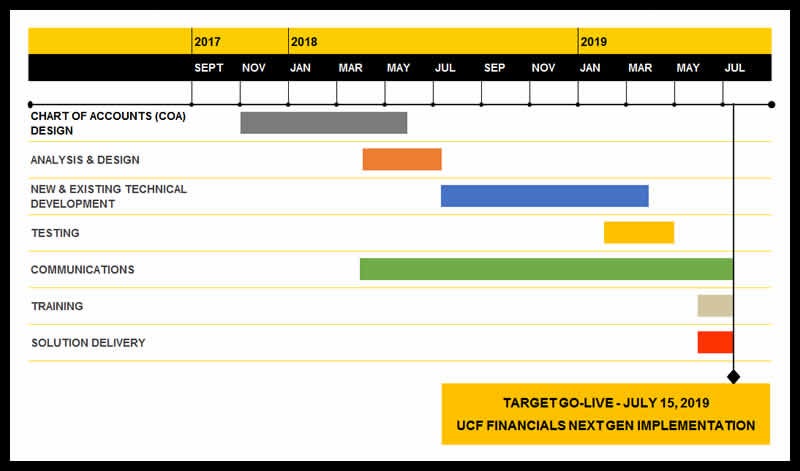 New Chart of Accounts (CoA) Values and Crosswalk Presentation – July 13, 2018
On July 13, Christy Tant, Assistant Vice President, University Controller, presented the chartfield values and hierarchies which are the primary output from the UCF Financials Chart of Accounts (CoA) Redesign project. The audience was a select group of university financial leaders who had participated in nearly 60, individual value setting meetings with the value setting team. The audience is encouraged to review the chartfield values and hierarchies, and is welcome to provide input on suggested changes directly to any value setting team member by September 1.
Special recognition and thanks go to the value setting team, who have worked almost exclusively on this activity since March.
Donna DuBuc, Associate Director, University Budget
Brad Hodum, Associate Controller
Steve Omli, Assistant Dean, Medical School Finances
Rich Strohfus, Applications Systems Analyst Lead IT Financial Support Services
Christy Tant, Assistant Vice President, University Controller
Click here to view the PowerPoint presentation.
UCF Financials Next Gen Fit-Gap Kick-off Meeting
Financial Support Services is pleased to announce the fit-gap kick-off meeting for the UCF Financials Next Gen Implementation project. This 1-hour information session will cover what to expect during fit-gaps, their format, and how decisions will be made about configuring the new ChartFields for UCF Financials.
What: UCF Financials fit-gap kick off meeting
When: Tuesday, April 17, 1:00 – 2:00 p.m.
Where: Research Pavilion, Rm-302 and Skype for Business
If you wish to attend this meeting via Skype for Business, please contact the Financial Support Services help desk at (407) 823-5117, option 6 or via email at fntrain@ucf.edu.
Click here to view the PowerPoint presentation.
Frequently Asked Questions (FAQs)
How will I be able to see historical transactions after the chartfields change in July 2019?
As part of converting the chartfields, the project team will create a copy of the production database which will be "read-only," meaning you'll be able to view transactions but not create any new ones. Every UCF Financials user will have access to be able to inquire on and run reports from this database for at least the next few fiscal years after go-live. This database, called FIRO (Financials Read-Only) will contain a copy of all the data in the production database as of the close of fiscal year 2019, on or about June 30, 2019.
Also, although the Financials DataMart will be redesigned to accommodate the new chartfield segments, the "old" DataMart will remain available to you as an inquiry and reporting resource into the foreseeable future past go-live.
Fit-Gaps
Click the images below to view the fit-gap schedule and the minutes for each session.
The blue Minutes link on the schedule will open the minutes for the session.
User Acceptance Testing (UAT)
TBD
UCF Financials Chart of Account (CoA) – Effective July 2019
The Chart of Accounts (CoA) Redesign project has led to new hierarchies and ChartField values. The following crosswalk compares values in the current CoA with those in the redesigned CoA. Use the crosswalk to see how a current Department will be translated into an Organization when the new CoA is implemented in July 2019 as part of the UCF Financials Next Gen Project.
CLICK TO VIEW EXCEL FILES
The Values and Crosswalk file was refreshed effective August 30 with updated project PI data.
Update: Project chartfield values (except for construction projects) have been added to the Values and Crosswalk file effective August 17, 2018.
The CoA Redesign project enlisted the cooperation of the ChartField value-setting team and a cross-section of departmental and administrative-unit staff from across the university. They developed 10 new ChartField segments and new numeric values for each field during nearly 60 individual working sessions. The new, multi-segmented CoA will meet the university's evolving needs for greater flexibility in budgeting, financial management, and reporting.