THIS WEBSITE IS FOR HISTORICAL INFORMATION ONLY.
THE NEW HOMEPAGE CONTAINS RESOURCES FOR THE UCF FINANCIALS REFERENCE DATABASE, WHICH ONLY CONTAINS DATA PRIOR TO JULY 1, 2022.
Departments represent specific units of operations for which discrete financial information is maintained either for external reporting of information or internal management of funds, or both.
A value must be entered in the Department field anytime a transaction involves a departmental budget. The number you enter equates to a UCF department.
Department is required for transactions with fiscal year reporting. You must enter either the department or the project number when entering data.
The Department field consists of eight digits.
* Creation of UCF ChartFields generally adheres to the logic and naming conventions presented in this training course, but limited exceptions do exist.
Definition:
First through fourth digits = Functional area and Department
Fifth digit = Funding source
Sixth digit = Based on fifth
Seventh through eighth digits = Specific departmental number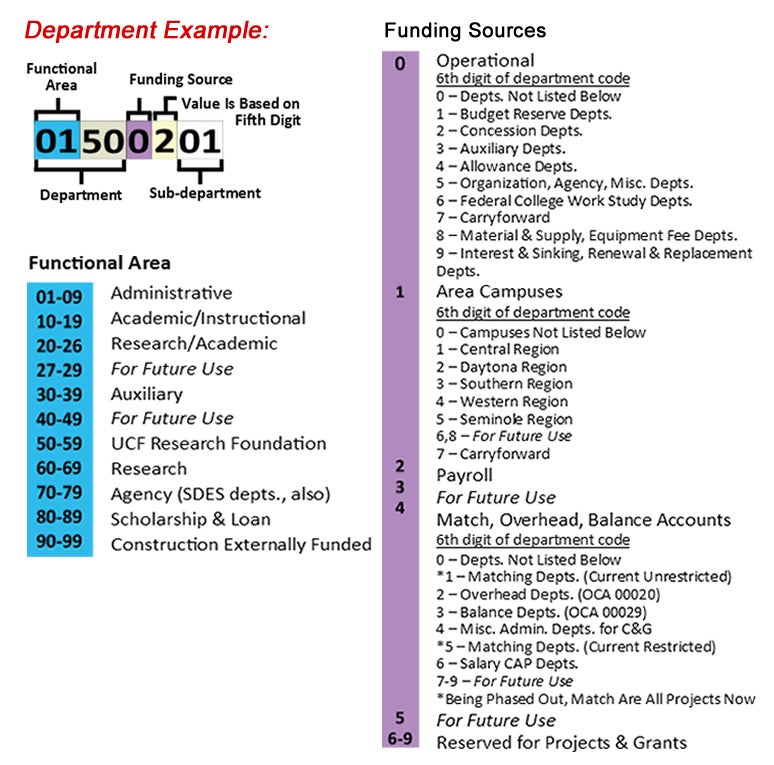 | Department Examples | |
| --- | --- |
| Description | Department Number |
| PRES-OPERATIONS | 01010001 |
| UN AUD-OPERATIONS | 01080001 |
| ALM RL-OPERATIONS | 01400001 |