THIS WEBSITE IS FOR HISTORICAL INFORMATION ONLY.
THE NEW HOMEPAGE CONTAINS RESOURCES FOR THE UCF FINANCIALS REFERENCE DATABASE, WHICH ONLY CONTAINS DATA PRIOR TO JULY 1, 2022.
Our Training
Financials Support Services has developed a comprehensive training program that includes online courses and instructor-led classes designed to teach employees how to use the university's online accounting system, UCF Financials. As a Financials user, you will choose options based on your job requirements. Topics range from basic navigation to advanced accounting procedures in areas such as travel, vendor payables, asset management, purchasing, and budgeting.

Register for our Webcourses
Follow the steps below to identify your online course curriculum to register for UCF Financials webcourses.
Step 1: What's Your Curriculum?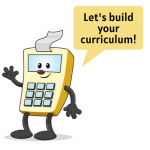 Let Addy match your job responsibilities and tasks by building your own personalized
Financials Training Curriculum
! Click the Addy icon on the right to complete the curriculum questionnaire. Once you have your personalized Financials training curriculum, print or save a copy for your records and proceed to Step 2.
Step 2: Time for Course Registration!
Now that you have your personalized Financials Training Curriculum, it's time to register. Follow the instructions on the Addy Note, Registering for UCF Financials Training Classes. You will be sent an email confirming each course enrollment. Each email will contain a link to the webcourse.
Step 3: Let's Start Learning!
Online courses should display in Webcourses@UCF. To access your online courses directly, log in to the myUCF Portal, select the Online Course Tools tab, and click the link under Webcourses@UCF. Then in the Dashboard section of the page, select a course number and name to open it.