Fund Codes are used to aggregate Departments and Projects into major units of activities to facilitate the review of financial information.
The Fund Code field consists of five digits.
* Creation of UCF ChartFields generally adheres to the logic and naming conventions presented in this training course, but limited exceptions do exist.
Definition:
First digit = External Fund
Second digit = Indicates whether the Fund Code is associated with a Department or a Project
(0 = Department, 1 = Project)
Third through fifth digits = Financial Statement Code, also called the Other Cost Accumulator (OCA)
Research Foundation (RFD01) fund codes begin with 905XX, 915XX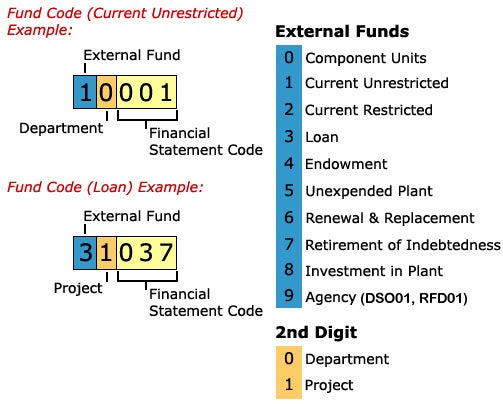 | Fund Examples | |
| --- | --- |
| Fund Code | Description |
| 10001 | General Revenue |
| 10016 | Parking Services |
| 31037 | Federal Perkins Loan Program |