THIS WEBSITE IS FOR HISTORICAL INFORMATION ONLY.
THE NEW HOMEPAGE CONTAINS RESOURCES FOR THE UCF FINANCIALS REFERENCE DATABASE, WHICH ONLY CONTAINS DATA PRIOR TO JULY 1, 2022.
Fund Codes are used to aggregate Departments and Projects into major units of activities to facilitate the review of financial information.
The Fund Code field consists of five digits.
* Creation of UCF ChartFields generally adheres to the logic and naming conventions presented in this training course, but limited exceptions do exist.
Definition:
First digit = External Fund
Second digit = Indicates whether the Fund Code is associated with a Department or a Project
(0 = Department, 1 = Project)
Third through fifth digits = Financial Statement Code, also called the Other Cost Accumulator (OCA)
Research Foundation (RFD01) fund codes begin with 905XX, 915XX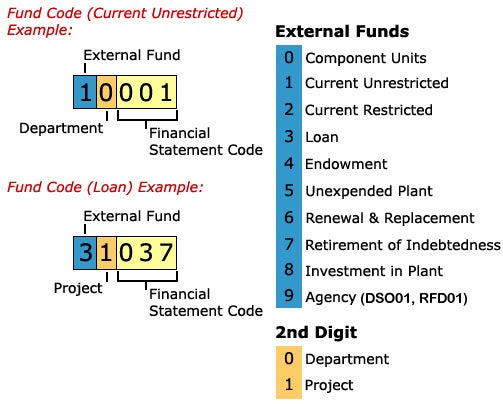 | Fund Examples | |
| --- | --- |
| Fund Code | Description |
| 10001 | General Revenue |
| 10016 | Parking Services |
| 31037 | Federal Perkins Loan Program |