THIS WEBSITE IS FOR HISTORICAL INFORMATION ONLY.
THE NEW HOMEPAGE CONTAINS RESOURCES FOR THE UCF FINANCIALS REFERENCE DATABASE, WHICH ONLY CONTAINS DATA PRIOR TO JULY 1, 2022.
A Project is a collection of information. Projects are similar to Departments in terms of their purpose. Unlike Departments, Projects operate using a defined budget period. Specific beginning and ending dates are required to establish a Project. Projects are used in lieu of Departments for research contracts and grants, construction and other facility improvement projects, and a limited number of auxiliary activities.
Either a Project or a Department number is required anytime you enter data for a transaction.
The Project field consists of eight digits.
* Creation of UCF ChartFields generally adheres to the logic and naming conventions presented in this training course, but limited exceptions do exist.
Definition:
First through fourth digits = Functional area and Project
Fifth digit = Funding source
Sixth through eighth digits = Consecutive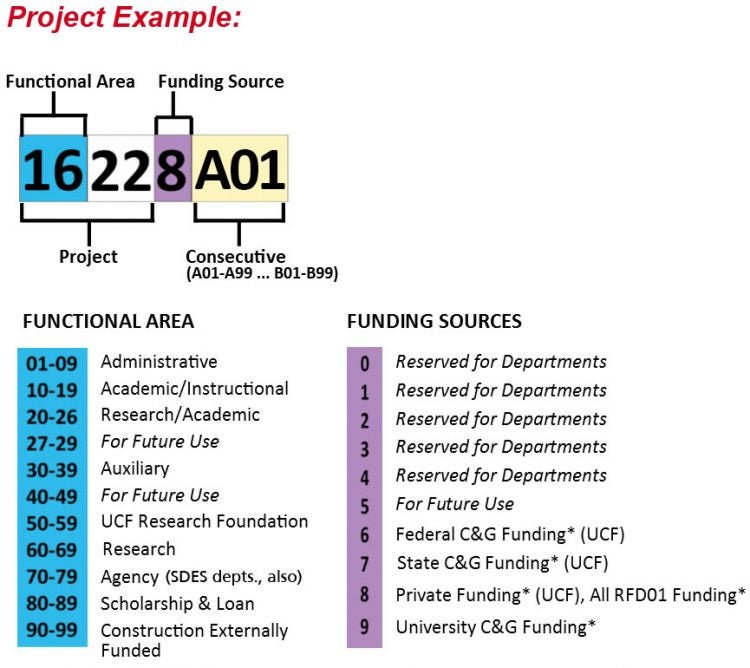 | Project Examples | | | |
| --- | --- | --- | --- |
| Description | Project Number | Start Date | End Date |
| BIO SCI-SOUTH BEACH TURTLE | 01010001 | 01/01/1900 | 02/17/2012 |
| UN REL VP-SOL TO SCHOLARS | 01080001 | 01/01/1900 | 06/30/2011 |
| ECE-TROPICAL RAINFALL MEAS | 01400001 | 01/01/1900 | 05/31/2014 |