UCF Financials Chart of Accounts (CoA) Redesign Project
Objectives
Reset the foundation of the financial accounting and reporting system to eliminate limitations inherent in the current, linear chart of accounts and provide a multi-segmented platform that will meet the university's evolving needs for greater flexibility in budgeting, financial management, and reporting.
Enable the implementation of the Oracle PeopleSoft Grants module as an element of Project Wahoo, which has been launched to support the university's Collective Impact Strategic Goal of doubling research awards to $250 million.
Increase the consistent use of the CoA for all areas and units across campus and decrease the reliance on "shadow systems" for financial management and reporting that duplicate the capabilities of the Oracle PeopleSoft financials application (UCF Financials).
Background
PowerPoint (PDF version) – Executive Forum: Chart of Accounts Redesign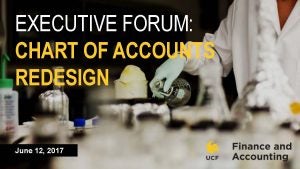 Timeline
To view a full size version of the timeline below, click HERE.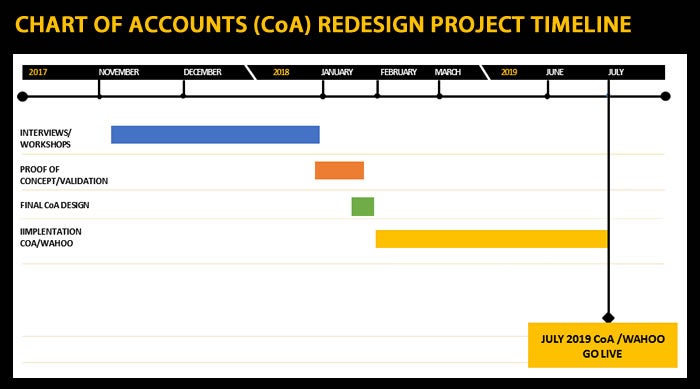 UCF Financials Chart of Accounts (CoA) Redesign Project Kick-off Meeting
Please join Finance and Accounting (F&A) for a project kick-off meeting to launch a comprehensive redesign of the university's existing chart of accounts. As a key university stakeholder and user of the chart of accounts, your input is critical to the project team in analyzing, designing, and building a new accounting structure that is the foundation of UCF's financial system.
What: UCF Financials Chart of Accounts (CoA) Redesign Project
When: Monday, November 13, 9:30 – 10:30 a.m.
Where: Teaching Academy TA-117 and Skype for Business
The kick-off meeting will cover the project's scope and timeline and is the best venue for you to ask questions and get additional details about the project. Come meet the project team and experts from Huron Consulting who have been retained by F&A to design an accounting structure that will enable stronger fiscal management and greatly improved financial reporting. The UCF Financials system that emerges from this redesign process will be significantly different and better, but only if it incorporates genuine feedback from key system users like you.
UCF Financials Chart of Accounts (CoA) Redesign Information Session
Finance and Accounting invites you to attend an information session on the proposed prototype of the new UCF Financials Chart of Accounts (CoA).
How does this affect me?
If your role at UCF involves working with the UCF Financials system, or if you have financial responsibilities for your area, the CoA redesign affects your job. The changes to UCF Financials are not slated to take effect until a later date, but they are very significant.
How will I benefit?
Attend the presentation to learn:
How the new chartfields will support the university's continued growth and provide greater flexibility for financial management and reporting
What the proposed new chartfields are called, and how they will be used
The project timeline and when you'll be able to get training and additional resources to support your area through the change
When and where will the information session take place?
When – February 15, 2018 from 11:00 a.m. to noon
Where – Teaching Academy, Room TA-117
General Information Session Informs Campus Employees of CoA Redesign Goals
Employees at the University of Central Florida (UCF) learned of changes coming to UCF Financials at a general information session Thursday, Feb. 15. Two project sponsors from Finance and Accounting (F&A) and a consultant shared key features of the Chart of Accounts (CoA) Redesign. Approximately 250 people attended.
Assistant Vice President and University Controller Christy Tant opened the meeting. She said the redesigned CoA will help the accounting system grow with UCF. To do this, fields in the CoA will be more specific, identifying a unique element of financial transactions. These fields will be called segments. Each will contain one piece of information, not many like they can now. For example, a current Dept ID could contain a department name and funding source. After the redesign these details will be in separate segments. This will make it easier to search for data.
Huron Consultant David Klipa talked more about segments. Some, like the Business Unit and Account, will be required in every transaction. Others will be conditional. Each segment will include a number and description. Crosswalks will be set up to compare the old and new CoA. DataMart will be updated to reflect the new design, also.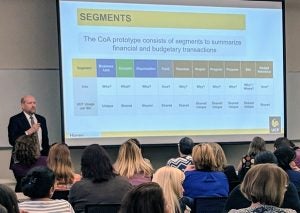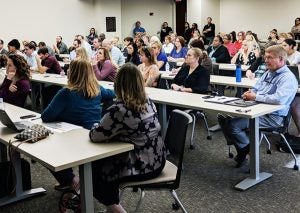 Assistant Vice President of Information Technology Financials Systems Rebecca Vilsack noted that new training will be produced. This will include instructor-led training, online courses, and quick access material like Addy Notes and Tips.
As the project continues, F&A will hold more information sessions. UCF Financials users will be asked for input regarding things like segment values and queries.
For more details, view the presentation called Campuswide General Information Session at https://financials.ucf.edu/wp-content/uploads/sites/4/CoA-Redesign-General-Info-Meeting_021518.pdf.
Agendas, Minutes & Presentations
Project Core Team
A&F – Administration and Finance  COM – College of Medicine  F&A – Finance & Accounting  FSS – Financials Support Services  ITR – Information Technologies and Resources  ORC – Office of Research and Commercialization
Executive Sponsor: Christy Tant (F&A)
Sponsor: Becky Vilsack (FSS)

Steering Committee:
Tracy Clark (F&A)
Ozlem Garibay (ORC)
Joel Hartman (ITR)
Elizabeth Klonoff (ORC)
William Merck (A&F)
Michael Sink (UCF IT)
Christy Tant (F&A)
Becky Vilsack (FSS)

Project Managers:
Varsha Das (FSS)
Mark Wray (FSS)

Huron Consulting Group:
David Klipa, Managing Director
Richard McCaulley, Manager
Diane Wagner, Associate

Project Core Team:
Reggie Besana (FSS)
Varsha Das (FSS)
Donna DuBuc (F&A)
Brad Hodum (F&A)
Dorann Mullins (FSS)
Steve Omli (COM)
Brad Smith (FSS)
Rich Strohfus (FSS)
Christy Tant (F&A)
Becky Vilsack (FSS)
Mark Wray (FSS)