UCF Financials Chart of Accounts (CoA) Redesign Project
Objectives
Reset the foundation of the financial accounting and reporting system to eliminate limitations inherent in the current, linear chart of accounts and provide a multi-segmented platform that will meet the university's evolving needs for greater flexibility in budgeting, financial management, and reporting.
Enable the implementation of the Oracle PeopleSoft Grants module as an element of Project Wahoo, which has been launched to support the university's Collective Impact Strategic Goal of doubling research awards to $250 million.
Increase the consistent use of the CoA for all areas and units across campus and decrease the reliance on "shadow systems" for financial management and reporting that duplicate the capabilities of the Oracle PeopleSoft financials application (UCF Financials).
Background
PowerPoint (PDF version) – Executive Forum: Chart of Accounts Redesign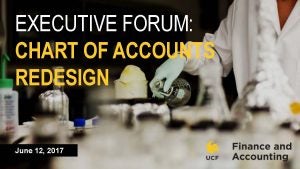 Timeline
To view a full size version of the timeline below, click HERE.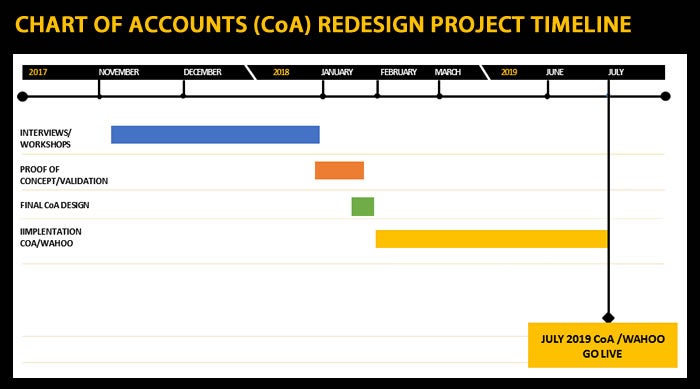 UCF Financials Chart of Accounts (CoA) Redesign Project kick-off Meeting
Please join Finance and Accounting (F&A) for a project kick-off meeting to launch a comprehensive redesign of the university's existing chart of accounts. As a key university stakeholder and user of the chart of accounts, your input is critical to the project team in analyzing, designing, and building a new accounting structure that is the foundation of UCF's financial system.
What: UCF Financials Chart of Accounts (CoA) Redesign Project
When: Monday, November 13, 9:30 – 10:30 a.m.
Where: Teaching Academy TA-117 and Skype for Business
The kick-off meeting will cover the project's scope and timeline and is the best venue for you to ask questions and get additional details about the project. Come meet the project team and experts from Huron Consulting who have been retained by F&A to design an accounting structure that will enable stronger fiscal management and greatly improved financial reporting. The UCF Financials system that emerges from this redesign process will be significantly different and better, but only if it incorporates genuine feedback from key system users like you.
Project Core Team
A&F – Administration and Finance  COM – College of Medicine  F&A – Finance & Accounting  FSS – Financials Support Services  ITR – Information Technologies and Resources  ORC – Office of Research and Commercialization
Executive Sponsor: Christy Tant (F&A)
Sponsor: Becky Vilsack (FSS)

Steering Committee:
Tracy Clark (F&A)
Ozlem Garibay (ORC)
Joel Hartman (ITR)
Elizabeth Klonoff (ORC)
William Merck (A&F)
Michael Sink (UCF IT)
Christy Tant (F&A)
Becky Vilsack (FSS)

Project Managers:
Varsha Das (FSS)
Mark Wray (FSS)

Huron Consulting Group:
David Klipa, Managing Director
Richard McCaulley, Manager
Diane Wagner, Associate

Project Core Team:
Reggie Besana (FSS)
Varsha Das (FSS)
Donna DuBuc (F&A)
Brad Hodum (F&A)
Dorann Mullins (FSS)
Steve Omli (COM)
Brad Smith (FSS)
Rich Strohfus (FSS)
Christy Tant (F&A)
Becky Vilsack (FSS)
Mark Wray (FSS)